On June 10, 2023, Mr. Vu Minh Quang, Executive vice president  of FPT IS ERP, had a sharing session with students of EMBA class 8A – the Executive Master program in Business Administration. In this meeting, Mr. Minh Quang gave an insight into major trends in digital transformation and the necessary approaches to apply them to businesses' business strategies. During the conversation, Mr. Quang shared about the roadmap for implementing digital initiatives, an important thinking framework for success in digital transformation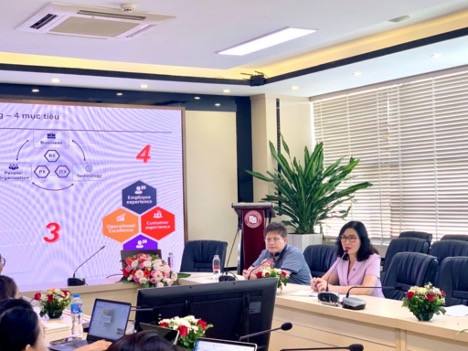 Mr. Quang emphasized the importance of improving the internal operational efficiency of enterprises through the application of digital technology. In the process of digital transformation, Mr. Minh Quang also mentioned the meaning of human-centered design thinking to innovate, integrating 3 objects: human requirements, technology capabilities and business reality to make accurate decisions for businesses.
Students of EMBA class with backgrounds of middle and senior managers in many public and private enterprises had lively exchanges in the field of digital transformation. The seminar is not only an opportunity for EMBA students to access new knowledge, but also creates a strong community connection environment where managers can share and support each other in the digital transformation process.